Richard Janosko, RAC Medical Device Regulatory Affairs Consulting

Please note: Since 2003 I have reduced my consulting practice to limited assistance to several select old clients .

I am not accepting new projects. Thank you.

Home ----- Consulting Services ----- About me -----

Sample

Projects

beating heart image courtesy of ScImage, Inc.
Examples of my Projects:

PicomOnline Internet medical records distribution

AeroGen Breath Actuated Inhaler

Hewlett-Packard IVUS Ultrasound System

Siemens Radiation Therapy Simulator

Quinton Intravascular Ultrasound Imaging Catheter Pullback

ScImage Three Dimensional Imaging Workstation and Software

MVP Meniscal Allograft Reconstruction Surgical Device Kit

Dicomit DICOM Medical Image Manager

Dicomit 3D Diagnostic Ultrasound Software

Whittlestone Breast Pump

Natus Neonatal Noise Attenuator

VIZTEK Onyx-RAD Picture Archiving and Communications System

ITI Electrosurgery Electrodes


Internet Medical Records
PICOMOnline.com is a web-based, e-solution designed to securely distribute data intensive medical records. PicomOnline combines online multi-modality, image viewing with customizable, diagnostic report creation. PicomOnline provides a comprehensive service to the healthcare community that increases clinical productivity, enhances patient care and reduces costs associated with conventional medical practices. Cleared to market by the FDA January 19, 2001.

With PICOMOnline.com, you can:

have online access to patient files by reviewing and referring physicians

review image studies at your office or home

have patient access to their reports online

have multiple scheduling centers for your facility and improve communication with satellite facilities

The AeroGen, Inc. AeroDose™ Inhalers are designed to safely and effectively deliver drugs of various particle sizes while eliminating many of the limitations associated with metered dose inhalers, dry powder inhalers and current commercial nebulizers. The AeroDose incorporates a breath-activation feature designed so that drug will be aerosolized only when the patient's inhalation rate has reached a predetermined threshold, which can be adjusted for a particular target patient population. Electronic controls are designed to allow customization of inhalers for both relaxed and controlled breathing, facilitating delivery of drug to the desired portion of the lung. Breath actuated nebulizer cleared to market by the FDA August 25, 2000.

This new imaging software and hardware module added new automated catheter pullback capabilities to an existing

Hewlett-Packard diagnostic Intravascular Ultrasound (IVUS) system. The resulting ultrasound images created by the system are used to visualize areas of stenosis and to aid in visualization of cardiovascular stent placement.


This Siemens Oncology Care Group device was designed in France with major sub-assemblies such as the X-Ray equipment supplied by Siemens, Germany. Developing all the necessary regulatory approval files this FDA 510(k) submission required coordinating testing and documentation activities between three engineering groups in the United States, Germany, and France.




This Intravascular Ultrasound Catheter Pullback was developed by Quinton Imaging for use on diagnostic ultrasound IVUS scanners. Shown on the pullback device is a catheter interface unit, a device that rotates the ultrasound transducer tipped catheter core during scanning of cardiovascular lumen. The resulting ultrasound images are used to visualize areas of stenosis and to aid in visualization of cardiovascular stent placement. 3-D and cross sectional images from a stent placement study are shown on the right.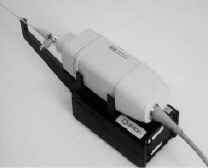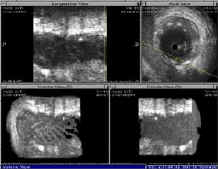 Three Dimensional Imaging Workstation and Software
These spectacular three dimensional images were created on the ScImage, Inc. Netra 3D™ Workstation and NetraMD™ 3D Software. The NetraMD Workstation permits image acquisition for all CT, MRI and Ultrasound Modalities. It provides state-of-the-art reconstruction and display algorithms with fast, easy, and flexible user interaction.


Meniscal Allograft Reconstruction Surgical Device Kit
This new MVP Surgical Innovations, Inc. kit provides the specialized tools orthopedic surgeons need to perform this meniscus replacement procedure. The specialized MVP tools shape the tibia and donor meniscus and assist in implant fixation.




Dicomit DICOM IMAGE MANAGER™ upgrades any medical modality, including Ultrasound, CT, and MRI to DICOM 3.0 network compatibility including image storage, image printing, modality worklist management, removable media and query/retrieve of previous exams all with advanced image management and review features.

DICOMIT 3D Diagnostic Ultrasound Software

This new option allows the clinician to add high quality adjunctive 3D volume images to their diagnostic ultrasound system without complex and difficult to use new equipment. The Dicomit DICOM IMAGE MANAGER™ 3D ROI™ software option provides an easy method to acquire and create 3D image volumes with a simple sweep of a ultrasound probe across the anatomy. You can subsequently view literally thousands of cross-sectional images of the volume in any position or orientation. Cleared to market by the FDA April 16, 1999.


Whittlestone Breastmilk Expresser
The innovative Whittlestone, Inc. nursing mothers breast pump incorporates new technology with contemporary materials and human factors engineering, creating a product with exceptional performance, ease of use, and convenience. Cleared to market by FDA March 21, 2001


Natus MiniMuffs

Neonatal Noise Attenuators provide a comfortable, easy-to-use solution for decreasing the noise levels for babies in the NICU. They are specifically designed for premature infants and decrease noise levels by at least 7dB. Reducing NICU noise levels for neonates has been shown to positively impact sleep state, and oxygenation.




Onyx-RAD Picture Archiving and Communications System
Viztek, Inc.'s Onyx-RAD medical PACS (Picture Archiving and Communications System) workstation and imaging software provides a fully integrated patient database, imaging and communications system. It allows allows physicians to access and retrieve patient information at home or any location worldwide. Onyx-RAD also performs enhanced image viewing, manipulation, markups, and annotation. Cleared to market by FDA February 15, 2001


Electrosurgery electrodes are commonly used in many open and laproscopic surgery procedures. These new ITI electrodes use a proprietary non-stick coating to make the life of the surgeon easier. FDA clearance to market for these simple looking devices required comprehensive mechanical and electrical engineering testing, materials Biocompatibility testing, and sterility process validation.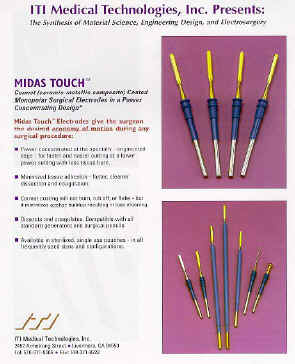 Home ----- Consulting Services ----- About me ----- Recent Projects

Please note: Since 2003 I have reduced my consulting practice to limited assistance to several select old clients and am not accepting new projects. Thank you.

© 2013 Richard Janosko Consulting. All rights reserved.

All company and product names are registered trademarks of their respective companies. All rights reserved by the respective companies.

visit www.ourhealdsburg.com